Our blockchain certificates and badges change the way educators, students, businesses, and healthcare providers interact.
Adding extra context and removing back-and-forth verification makes it easy to identify job candidates, communicate skills, and understand records.
We do this with a software-as-a-service platform for creating, issuing, and managing blockchain credentials. With our platform, you can create anything from diplomas and certifications to test results, IDs, government documents, medical records, and more.
To increase trust and efficiency for educators, job seekers, hiring managers, healthcare professionals, and patients through verifiable skills, certifications, records, and more.
Credentials should show even more than they tell; they should illustrate skills and findings rather than list them.
Our credentials are 100% fraud-proof, so we vet our partners thoroughly before letting them issue credentials.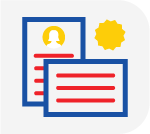 Our partners have various needs: Our credentials need to fit them, not the other way around.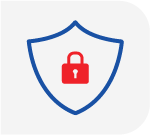 Issuers can always revoke, delete, download, and export their credentials. Not to mention, they're independently verifiable.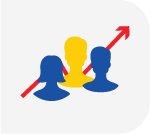 Blockchain credentials should have a larger practical impact than their counterparts, increasing credibility and reducing friction.

Credentials should represent genuine skills, accomplishments, measurements, and more.
The 3 Credentialing Stakeholders
Credentials have three users: the issuers, the recipients, and the verifiers. We have built our platform specifically to satisfy the needs of these three stakeholders.

Anyone who creates and administers credentials is an issuer. Examples include schools, credentialing bodies, and healthcare providers. Their needs vary, but often relate to simple issuing, content flexibility, cohort management, and brand recognition.
Anyone who is issued a credential is a recipient. Examples include students or graduates, patients, and professional license-holders. Their needs often revolve around the usefulness of the credential itself: Does it verify and demonstrate their skills, condition, or knowledge?
Anyone who reviews a credential is a verifier. Examples include hiring managers, admissions officers, physicians, and government officials. Their needs involve speed, accuracy, validity, and simplicity. Verifiers are trying to answer a specific question, and our credentials make that process easier.
Zan is a seasoned edtech and blockchain developer who has devoted the past three years to developing an industry-leading credential SaaS at Digit.ink. He has deep familiarity with credential standards such as Verifiable Credentials and Open Badges—as well as Web3 credential frameworks such as Blockcerts, Sovrin, and uPort.
Lucas is a skilled UX architect and brand strategist. In addition to making Digit.ink's product and sales materials look and feel great, he brings experience as a business owner and sophisticated instincts on design trends as managing editor of Type Magazine, the world's leading publication for typography. He is a graduate of UVA with a bachelor's degree in cognitive science.
Christiana is a versatile self-starter with a background in growth marketing and financial business operations in the start-up industry; she has experience in Silicon Valley as well as international workplaces. She is a graduate of UVA with a bachelor's degree in economics.